5 Case Studies Proving the ROI of Sustainability
New Metrics '19 | Philadelphia, PA | November 18 – 20
Find out why sustainable business is simply good business.
We've pulled together a compilation of five research studies that demonstrate the positive ROI of sustainability from a variety of angles, including company revenue, stock performance, cost reduction, brand reputation, consumer engagement benefits, and more.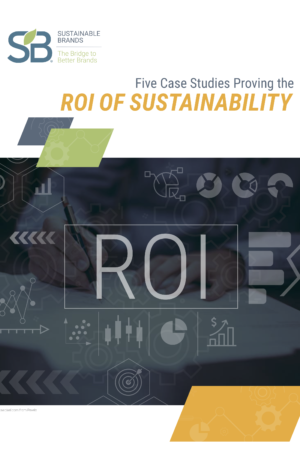 You will learn:
How leading researchers are analyzing the ROI of sustainability on multiple levels
How brands with purpose are growing and outpacing the competition
Why investing in companies with strong sustainability credentials is proving to be a consistently good bet
What advantages climate leaders create for themselves, and how they outperform their peers
Why sustainable business is simply good business
Want to learn more about the ROI of sustainability? Join Sustainable Brands at our upcoming New Metrics '19 conference, taking place November 18-20 in Philadelphia, PA.