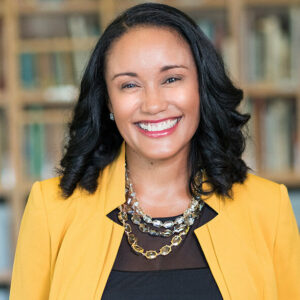 Tynesia Boyea-Robinson
President and CEO — CapEQ
As an entrepreneur, Six Sigma blackbelt, and technologist, Tynesia is uniquely positioned to catalyze a new era of business and social action. She has been religiously leading and writing about enterprises that "do well and do good" for over a decade.
As President and CEO of CapEQ™, she helps Fortune 500 clients like the Carlyle Group and Marriott. She has raised tens of millions of dollars to support bold, large-scale social initiatives and leveraged relationships across companies and organizations to help thousands of people reach financial stability.
Her work has been recognized by President Obama and President Clinton and featured in a New York Times bestseller. She has published articles in the Washington Post, Forbes, CNN and more.
Tynesia received her MBA from Harvard Business School and has a dual degree in Electrical Engineering and Computer Science from Duke University. She and her college sweetheart, Keith, are committed to indoctrinating their children with a love of Duke basketball and all things geeky and sci-fi.
Her life's work has been changing how the world does business. She wants to help you maximize the full potential of your business and build a company equipped to face modern challenges.