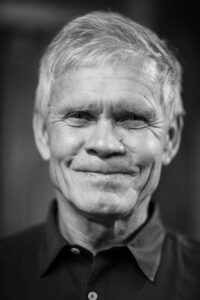 Rick Ridgeway
Writer and Conservationist — Patagonia
RICK RIDGEWAY is an outdoor adventurer, writer and advocate for sustainability and conservation initiatives.
For 15 years, Rick was the VP of Environmental Affairs and then VP of Public Engagement at Patagonia. During his tenure he has worked with teams to develop and launch environmental and sustainability initiatives including Freedom to Roam, the Footprint Chronicles, the Responsible Economy Campaign and Worn Wear.  He also was founding chair of the Sustainable Apparel Coalition, today the largest apparel, footwear and home textile trade organization in the world.
In addition, Rick is recognized as one of the world's foremost mountaineers.  With three companions, he was the first American to summit K2, and he has done other significant climbs and explorations on all continents.  He has written seven books, many magazine stories and produced and directed dozens of television shows.   National Geographic honored him with its "Lifetime Achievement in Adventure" award.