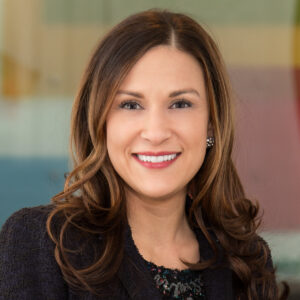 Mary Jane Melendez
Chief Sustainability & Social Impact Officer — General Mills
Mary Jane Melendez is Chief Sustainability Officer for General Mills. She also serves as president of the General Mills Foundation.
Mary Jane stewards the companies sustainability and philanthropy efforts, working closely with Supply Chain, sourcing, the Foundation and other key business leaders to develop, coordinate and execute programs to achieve companywide targets. Mary Jane is responsible for advancing collaboration to drive change, by promoting environmentally and socially responsible practices across the entire value chain, from farm to fork and beyond. Her role combines accountability for taking care of our planet and nourishing our communities in an effort to amplify the impact of General Mills as a force for good.
Mary Jane serves on the board of Partners in Food Solutions, the Saint Paul and Minnesota Community Foundation and the Dougherty Family College of the University of St. Thomas.
Mary Jane's strategic business leadership was recently recognized by the Minneapolis/St. Paul Business Journal as a 2018 40 under 40 Award Winner. She was named one of the Latino Leaders' Top Latina Executives in Corporate America in 2018.
Mary Jane earned both her MBA and bachelor's degree in Business Administration from the University of St. Thomas in St. Paul, MN.