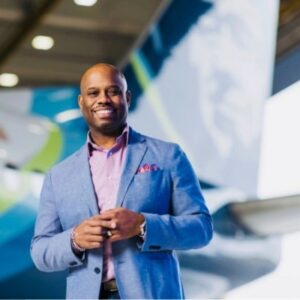 James Thomas
Director Diversity, Equity & Inclusion — Alaska Airlines
James is a seasoned professional with over 22 years of leadership experience, and over 13 years leading diversity and inclusion programs. His background spans fashion, food, wine and now the airline industry. James joined Alaska Airlines as the Director of Diversity, Equity & Inclusion where he supports the Alaska Air Group which includes Alaska Airlines and Horizon Airlines. He and his team play an important role in helping the company achieve their goal of building an airline people love by embedding inclusion and diversity throughout the company's policies, programs and practices, to ensure that employees and guest feel safe, welcome, a sense of belonging and connected to the brand. Alaska recently announced bold goals to creating a more inclusive workforce by 2025 which James' role will be critical in leading; https://blog.alaskaair.com/alaska-airlines/diversity-equity-inclusion-goals/ . 
James transitioned to Alaska from Ste. Michelle Wine Estates where he served as their first Director of Inclusion, Equity and Diversity, supporting a collection of wineries across California, Oregon and Washington. Before Ste. Michelle. James worked in multiple roles for Starbucks. First, as a District Manager leading a portfolio of stores in the downtown Seattle market, and then as a Senior Manager of inclusion, diversity, equity and accessibility programs. In this role he supported the company's U.S. retail business which included over 18,000 stores and 187,000 employees. James' primary role was to operationalize and implement the company's inclusion and diversity strategies throughout the retail business to create a more inclusive environment for both customers and employees.
Prior to Starbucks, James spent 20 years at Nordstrom in multiple roles that included being a Store Manager for both the Rack and Full Line division and ten years in the diversity and inclusion division, five leading the company program.
James is a Cornell University certified diversity professional and has his undergraduate degree in Business Administration from the University of Phoenix and a graduate degree in Legal Studies from Arizona State University.
He has served on a few nonprofit boards that include Seattle Goodwill and Big Brothers Big Sisters of Puget Sound, Choices Education Group, and currently serves as a board member for City Year King County.
In his spare time, he enjoys playing tennis, hiking and riding his motorcycle.