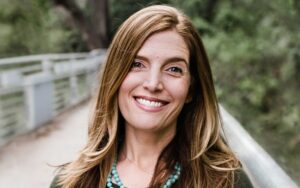 Hannah Peters
EVP, Corporate Reputation & Brand Purpose — WE
As WE's executive vice president of corporate reputation and brand purpose, Hannah Peters leads the continued expansion of WE's capabilities and expertise in brand purpose platforms, executive communications, employee engagement, issues management, public affairs, and financial communications. She partners with clients to help them define what they stand for, embrace bold leadership, and use communications to protect their reputations and broaden their impact.
Hannah brings 20 years of strategic communications experience, partnering with a range of Fortune 100 clients and nonprofits on priorities including corporate social responsibility, sustainability, corporate philanthropy, diversity, equity and inclusion, reputation management, and public affairs. Before her role with WE, Hannah served as senior vice president at Hill+Knowlton Strategies (H+K), where she led Better Impact, H+K's citizenship and sustainability practice in the U.S. region, and worked with clients including Procter & Gamble, AT&T, Target, Mazda, Banfield Pet Hospital and the Banfield Foundation. Hannah also helped launch H+K HER (Helping Executives Rise), a leadership and mentorship program designed to help women working at communications agencies reach their professional goals.
Hannah currently serves on the board of the Banfield Foundation, and previously served on the boards of KLRU-TV, Austin's PBS affiliate, and the Annette Straus Institute for Civic Life. Outside of work, Hannah loves spending time with her two young sons and her rambunctious Aussiedoodle, Emmylou. She's a professed foodie, and in 2006 she launched Supper Underground, a highly successful Austin-based "supper club." She's also a classically trained pianist and an avid reader, runner, Peloton rider and traveler.