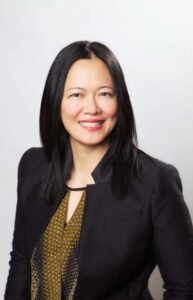 Gwen Migita
Senior Principal ESG — point b
As a Senior Principal in Point B's Environmental, Social, and Governance (ESG) Practice, Gwen advises executive leaders on the risks and opportunities associated with ESG performance. Her leadership role also involves enhancing connections between Point B's client-facing ESG Practice and internal Social Responsibility and Diversity, Equity and Inclusion (DEI) initiatives. Her work seeks to deepen purpose and belonging among Point B's 800+ employee owners and accelerate action by corporate, nonprofit and public sector customers to improve life on the planet.
Gwen joined Point B from Caesars Entertainment where she led Sustainability, Diversity, Equity and Inclusion and ESG for its global enterprise gaming, hotel, live entertainment, conventions, food and beverage, retail, and development and businesses partnerships.
Gwen is an industry leader in assessing macro trends and issues that may affect business and development goals. She is on the forefront of utilizing intersectional strategies to show that strong ESG programs deliver purpose and a positive financial outcome. Her work involves human rights, social and economic equity, investor research issues and outcomes impact based on corporate and environmental responsibility strategy.
As a former market research consultant in the Pacific Rim and U.S. Southwest, Gwen's background with Consumer Package Goods, visitor travel bureaus, beverage, tech, healthcare, voter issues and financial sector clients are a tremendous value add to her work in ESG, strategy and project leadership. She is a graduate of University of Washington and University of Nevada Las Vegas School of Business with a concentration in marketing (B.A. from UW) and Executive Master of Business Administration program (M.B.A. from UNLV).
Gwen is currently the DEI Committee Chair for Sustainable Brands Advisory Board and previously on the executive committee of the Sustainable Hospitality Alliance, board leadership of the Human Rights Campaign (Las Vegas, DC Metro), and American Marketing Association (Las Vegas, Hawaii, Guam). She and her wife Cuc Vu are active mother-negotiators of two school aged children, Max (8) and Ava (6), through Cub Scouts, baseball and Zoom dance and piano classes.