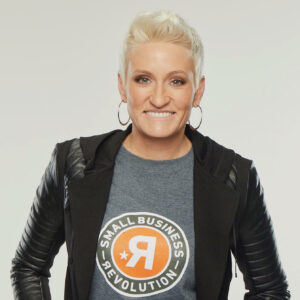 Amanda Brinkman
Creator, Producer and Host — Small Business Revolution – Main Street
Amanda Brinkman makes the Energizer Bunny look lethargic. Fueled by fountain Diet Coke and a meticulous daily water intake, she's a revolutionary brand marketer, a passionate speaker and a respectable water skier. She believes all brands can build loyalty by doing good, and she's constantly on the lookout for new opportunities to share her "Do Well By Doing Good" mantra with audiences large and small.
While climbing the ladder at leading creative agencies, Amanda's work on BMW Films kicked her career into overdrive. As a corporate marketing exec, she carved out a niche as an "intrapreneur," cultivating creativity from the inside out at General Mills, Allianz and UnitedHealth Group, where she built an internal agency that now employs 150 at seven offices worldwide.
In 2015, Amanda was recruited to transform Deluxe Corp.'s 100-year-old, $2 billion brand. She spearheaded the "Small Business Revolution," first showcasing 100 businesses across America, then going on to award $500,000 transformations to inspiring small towns. She produced and stars alongside Trading Spaces and Extreme Makeover: Home Edition's Ty Pennington in the acclaimed "Small Business Revolution – Main Street" series, which chronicles the program's impact on communities and countless lives.
A fierce advocate for her team, the phrase "thank you" consumes Amanda's word cloud. She's a trusted media source, a reality TV host, a sought-after speaker and one of those people who starts playing Christmas music before finishing her Thanksgiving leftovers. Her life goals include meeting Ellen and learning to tap dance (not necessarily at the same time), and she has a penchant for Pull and Peel Twizzlers.
Amanda is honored to serve on the boards of the Children's Cancer Research Fund, Make-A-Wish, the Children's Theatre Company and the Women's Business Development Center's Chicago Board. She also passionately volunteers for an array of causes, including the Special Olympics, Feed My Starving Children, Ordway Center for the Performing Arts, People Serving People, the Down Syndrome Association of Minnesota, the Jeremiah Program and more. And she's a member of the Minnesota Women's Economic Roundtable. When she's not volunteering, traversing the world or hammering out 1 a.m. emails, Amanda is doing what she loves most: spending time with her daughter (read: future tap-dance partner) and husband (who doubles as her best friend).