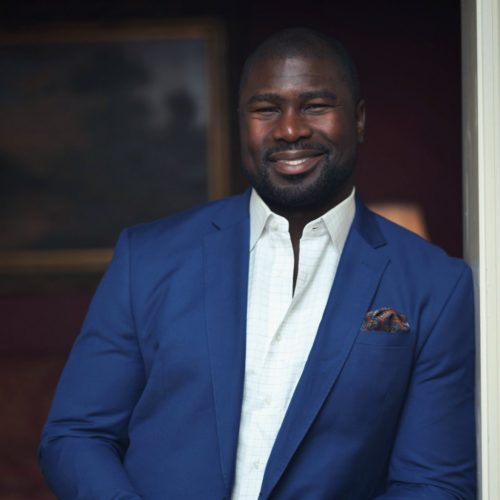 Ovie Mughelli
President & Founder
Ovie Mughelli Foundation

About Ovie
Ovie Mughelli is a retired professional athlete, turned environmental advocate.
During his nine seasons playing in the National Football League, Ovie was considered one of the best fullbacks in the NFL, was the first Pro Bowl Fullback in the history of the Atlanta Falcons, and earned All Pro honors twice while playing for the Atlanta Falcons and the Baltimore Ravens.
Ovie continues to leverage his platform as Founder and President of the Ovie Mughelli Foundation, as an environmental spokesperson, advocate and author, media correspondent, and business owner of a medical consulting firm. The Ovie Mughelli Foundation has a vested interest in empowering and educating youth as well as the less engaged, diverse communities to become the next generation of environmental change agents.
Ovie is a devoted husband and father of three young children. Becoming a father awakened Ovie to the connection of human health to our planet's health through a series of family difficulties when his two youngest children were born premature. Ovie recognized that we need a shift in our culture of how we the people connect with, see and treat our planet -- we can't breathe if we don't have clean air, we can't live if we don't have clean water.
Since that awakening, Ovie works to raise the consciousness of young people and less-engaged diverse communities about this Human-Nature connection, and has organized numerous programs that combine athletics with environmental education. Ovie's latest work is the launch of Gridiron Green, a graphic novel featuring Obasi – a Black superhero -- who defends humanity and protects Earth from the tyranny of destructive forces. Gridiron Green unites sports and environmental consciousness to raise awareness of climate change and evoke action to mitigate the impacts of environmental degradation and increased occurrences of extreme storms.
Ovie is Participating in these Events
Sports as a Platform for Raising Young People to be the Sustainability Leaders of Tomorrow - Keynote Session on Thursday, 6 June, 2019 at 10:13:00