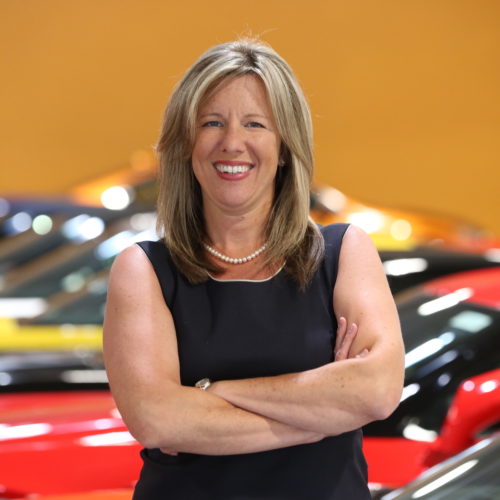 About Molly
"GM Ready-Now Dealer "executive Molly Williams is chief operating officer for the Matick Automotive Group in metro Detroit, consisting of the LEED-Silver Certified and five-time GM Green Dealer Matick Chevrolet; Matick Toyota, an existing dealership the group purchased in 2016 that now ranks among the top Toyota franchises in the Midwest; and the Matick Auto Wash and Detail Center, a brushless twin-tunnel facility that's the largest and most-sustainable car wash in the state. Its dedication opening last May hosted the first annual metro Detroit Wheels for Meals campaign, which raised more than $200,000 for Meals on Wheels.
Molly has served in key management roles at the five-time Chevy Dealer of the Year store since joining the three-time Automotive News Best Dealerships to Work For in 2000. Under her leadership, Hour Detroit magazine also selected Matick Chevy four times as the Best Automotive Dealership in metro Detroit. For 2018, Matick ranked 7th in new vehicle sales from among more than 3,000 Chevy dealers in the United States.
Matick Chevy was selected one of the Best and Brightest Sustainable Companies by Corp! magazine. After a multi-million-dollar renovation focused on green initiatives, Matick Toyota became one of the first dealerships in the country to showcase the newest Toyota Image II facility branding.
Molly is treasurer for the Veteran's Outreach project of Southeast Michigan for the 17th District Veteran's Court. She is a board member of the Redford Commission on Youth and Families and is on the South Redford Foundation for Education Excellence. Molly also is a founding member, and frequent meeting host, of the 100 Women Who Care Metro Detroit.
As a kidney transplant patient in 2018, she was recently appointed to the Henry Ford Hospital Transplant Council in Detroit.
Molly lives in Bingham Farms with her husband and three children.
Molly is Participating in these Events
Sponsored Lunch Presentation Hosted by Cox Enterprises. Sustainability Innovation in the Automotive Industry: A Conversation with Leaders - Special Event on Tuesday, 4 June, 2019 at 12:30:00