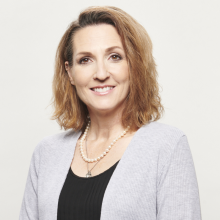 About Debi
Deb Geyer is Stanley Black & Decker's Vice President of Environment, Health & Safety (EHS) and Corporate Social Responsibility (CSR). Deb has global responsibility for improving the environmental performance of our facilities, the safety of our employees, and the sustainability of our operations, while taking the next step to ensuring that our businesses have a broader, positive impact on society.
Deb joined Stanley Black & Decker in 2000 and was appointed as a Vice President in 2011. Her current role involves establishing and executing on the company's global EHS and CSR strategy, driving results toward short and long-term targets, maintaining product and EHS compliance, ensuring EHS and Sustainability excellence and transparency.
Under her leadership, the Company's operational footprint has validated normalized energy, carbon, water and waste reductions since 2011. Global safety performance has shown year-over-year favorable incident reductions to world-class standards. Stanley Black & Decker is on the World and North America Dow Jones Sustainability Index, and on CDP's "A" list for both Climate Change and Water.
Prior to joining Stanley Black & Decker, Deb was with Textron as a member of the global EHS organization overseeing environmental liability management. Deb was also a hydrogeologist with the consulting firm, Hart Crowser.
Deb graduated Summa Cum Laude with a master's degree from Washington State University and has a bachelor's degree from State University of New York at Geneseo.
Debi is Participating in these Events
Building the Workforce of the Future in Light of Automation and Other Megatrends - Breakout Session on Tuesday, 4 June, 2019 at 11:00:00