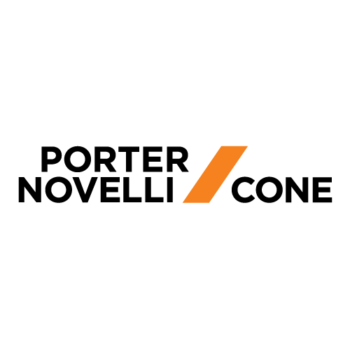 Porter Novelli/Cone Communications
Porter Novelli is a global public relations agency born from the idea that the art of communication can advance society. More than 45 years ago, we opened our doors – and people's eyes and minds – for brands driven to make a positive impact. Today, we believe that organizations must find, live and tell their purpose in order to thrive. Those companies will motivate action, secure loyalty and encourage advocacy — all in service to a healthier bottom line.
In 2017, Cone joined Porter Novelli, and the next year formed the world's largest dedicated Global Purpose Practice. Together, with a collective 80 years of experience and more than 100 subject matter experts, Porter Novelli and Cone help more than 140 organizations define their authentic Purpose, weaving it into the brand DNA to both grow the business and positively impact the world. Our deep subject matter expertise in Purpose Brand Strategy, CSR, Social Marketing, Social Impact and Brand Communications creates breakthrough work and unforgettable experiences to ignite action around issues that matter. For additional information, please visit www.porternovelli.com.
Speakers from Porter Novelli/Cone Communications