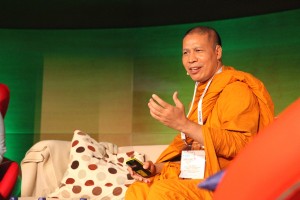 Sustainable Brands® is the premier global community of brand innovators who are shaping the future of commerce worldwide with focused attention on understanding and leveraging the role of brands in shaping that future.
Live events are ideal for collectively aligning our community of brand innovators towards our common vision as well as convening members to share challenges and successes face to face.
We know the world is changing – transparency is driving a multitude of stakeholders to connect the dots between brands and their positive or negative environmental and social impacts. The demand for new products, services and business models that deliver purpose and profit is soaring and it's those brand leaders of the 21st century who can successfully deliver both that will thrive. Dive deep into the brand innovation trenches at Sustainable Brands '16 Barcelona and learn How you can successfully innovate your brand for sustainability to drive brand success and business positive impact Now.
Bringing the system into one room
The first meeting of the SB Barcelona community took place last year. Dedicated business leaders from global organizations such as Levis, Patagonia, Ford, Cisco, Interface, Forum for the Future and Sistema B (B Corp) gathered to discuss about a wide range of inspiring topics including circular economy, the purpose, the net positive impact or the opportunity of "aspirational consumers", amongst many other themes.
There was a conscious effort to bring together all kind of actors – large multinationals, NGOs, academy, administration, investors, independent professionals and entrepreneurs, among others – each one contributing with a unique perspective but sharing the passion of transforming businesses in order to shift the world towards a sustainable economy.
This year we'll be building on the HOW NOW theme. The aim is to prompt leaders to actively apply the know HOW to shift business towards a more sustainable future NOW. Accelerate sustainable development and join us this year to fully immerse yourself along with 350 other professionals in order to find your HOW through inspiration, dialogue and collaboration.
Guest Country 2016: The Netherlands
At Sustainable Brands Barcelona, we strive to offer innovative and inspirational content within the framework of a cosmopolitan city such as Barcelona. This is why we have added to our programme a Guest Country, which this year will be The Netherlands. Dutch leading brands and companies will be featured in the programme, and will share with us their HOW_NOW: How they are actively applying the know HOW to shift both SMEs and big businesses towards a more sustainable future NOW.
The Netherlands is a reference with regards to business sustainability and the country, currently holding the European Union Presidency, aims to become a global leader on the  Circular Economy. As an example, 25 companies have joined forces to create the Dutch Circular Hotspot campaign, promoting the Circular Economy internationally.